​This past Friday was our 2023 Commencement Ceremony at Pueblo Memorial Hall. We had a total of 86 students achieve this milestone in their lives and we were all able to share in their accomplishments! On behalf of all AOLA Online Administration, Staff and Faculty, and the Las Animas School District RE-1, we are so proud of you and wish you all the best in your future endeavors! Congratulations, graduates! 🎊🎊

"Freedom makes a huge requirement of every human being. With freedom comes responsibility." —Eleanor Roosevelt From all of us here at AOLA Online, We would like to say Happy Memorial Day to all of those who have made the ultimate sacrifice. In observance of the holiday, all AOLA Online offices will be CLOSED with normal operations resuming on May 30th.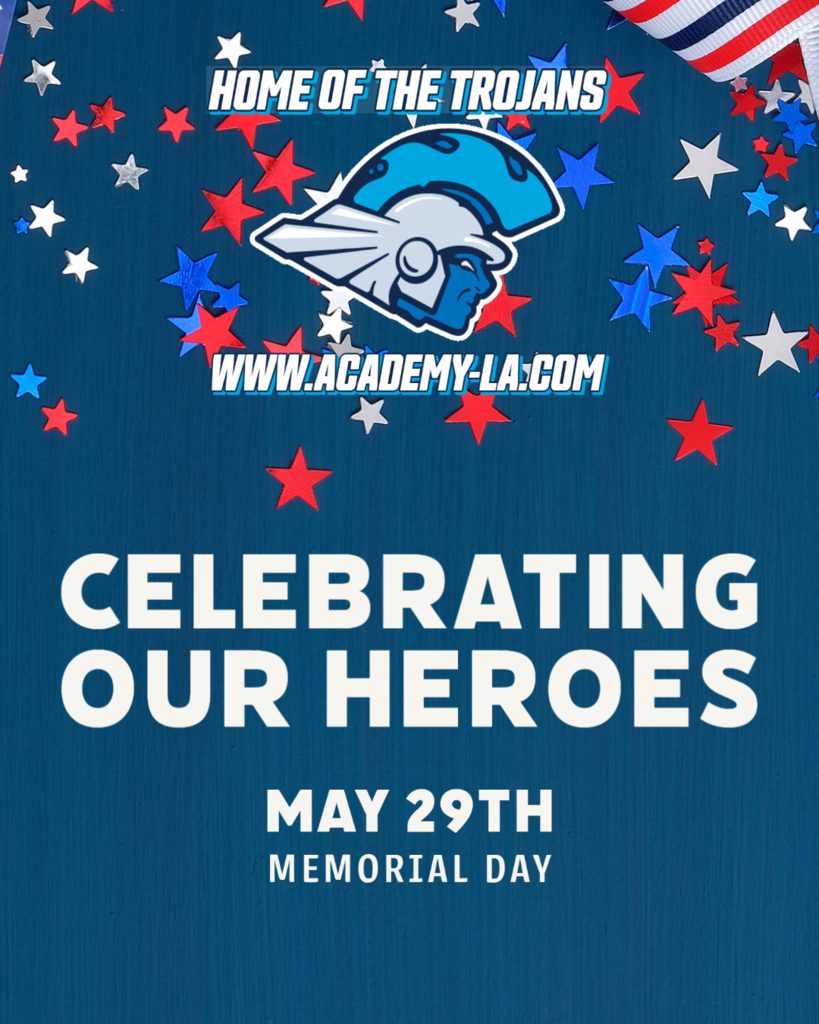 We are only 11 DAYS AWAY from Graduation, Seniors! We hope to see you in person for the commencement ceremony next Friday, June 2, 2023, at Pueblo Memorial Hall beginning at 6:00 p.m.! Join us on our website for the live stream if you cannot make it in person! 🎊🎉🎊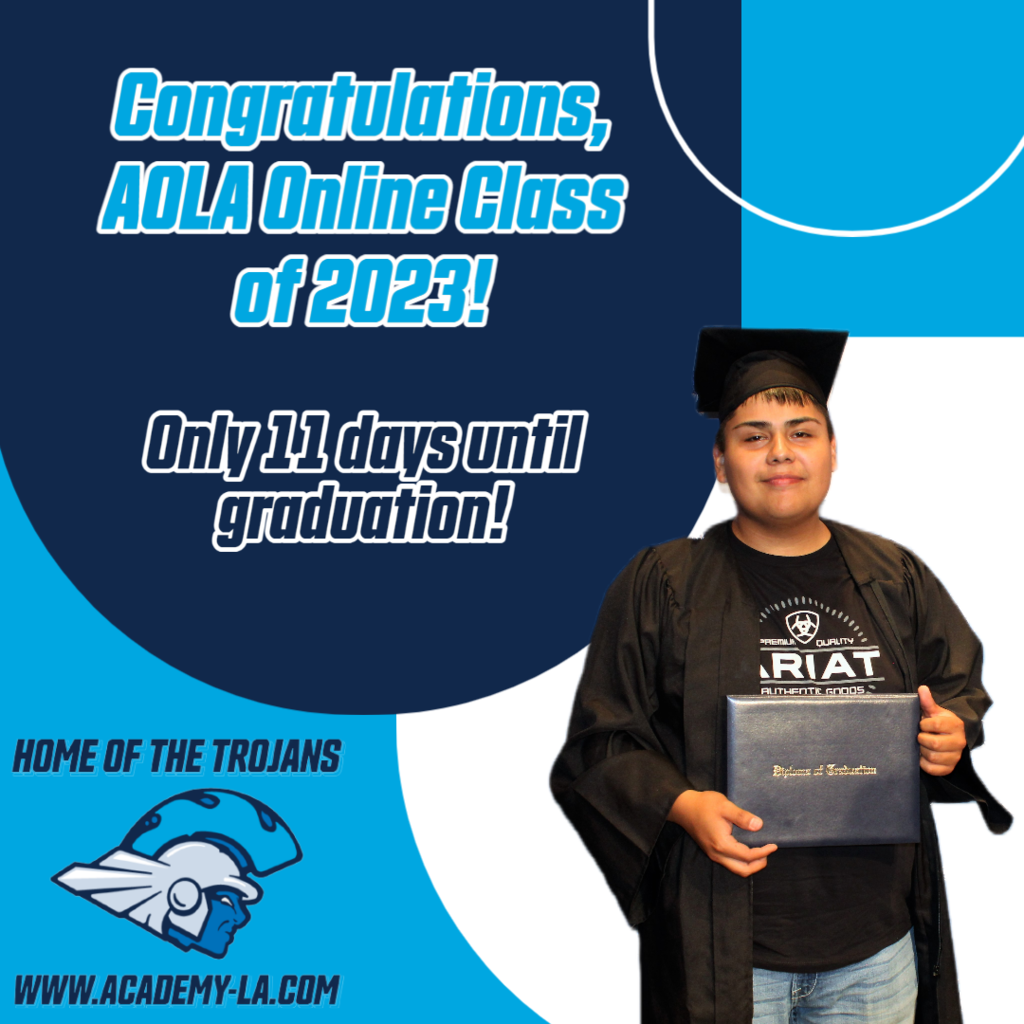 HAPPY TEACHER APPRECIATION WEEK TO OUR TEACHERS AT AOLA ONLINE & EDUCATORS ALL OVER THE WORLD! From all of us here at AOLA Online and Las Animas School District, We would like to say thank you to all of our amazing teachers! Your dedication and hard work in educating the future leaders of tomorrow is inspiring and appreciated.🎊🎉🎊🎉

What a great turnout we had at the 53rd Annual Cinco De Mayo celebration this past Friday at Bessemer Park in Pueblo!🌟🌟🌟 We enrolled students, informed on-goers about our diploma pathways, and gave out some AOLA Online merch and popcorn! 🎊🎉🎊 We cannot wait to do more events like this, so look for AOLA Online at events near you! 😁😁😁

​ATTENTION SENIORS! Graduation is ONE MONTH away! 🧑‍🎓👩‍🎓 The deadline to submit photos to be featured in the graduation slideshow is May 18th! Visit our website at
https://www.academy-la.com/pag
... to submit them before your big day! Check out the sneak peek here -->
https://fb.watch/khccqG1YnE/

Day #1 of Staff Appreciation continues here at AOLA Online by saying, Happy Nationals Principal Day to our great Assistant Principal, Mrs. Jennifer Hoelscher! Thank you for all that you do for our staff and students! 🌟📚🖊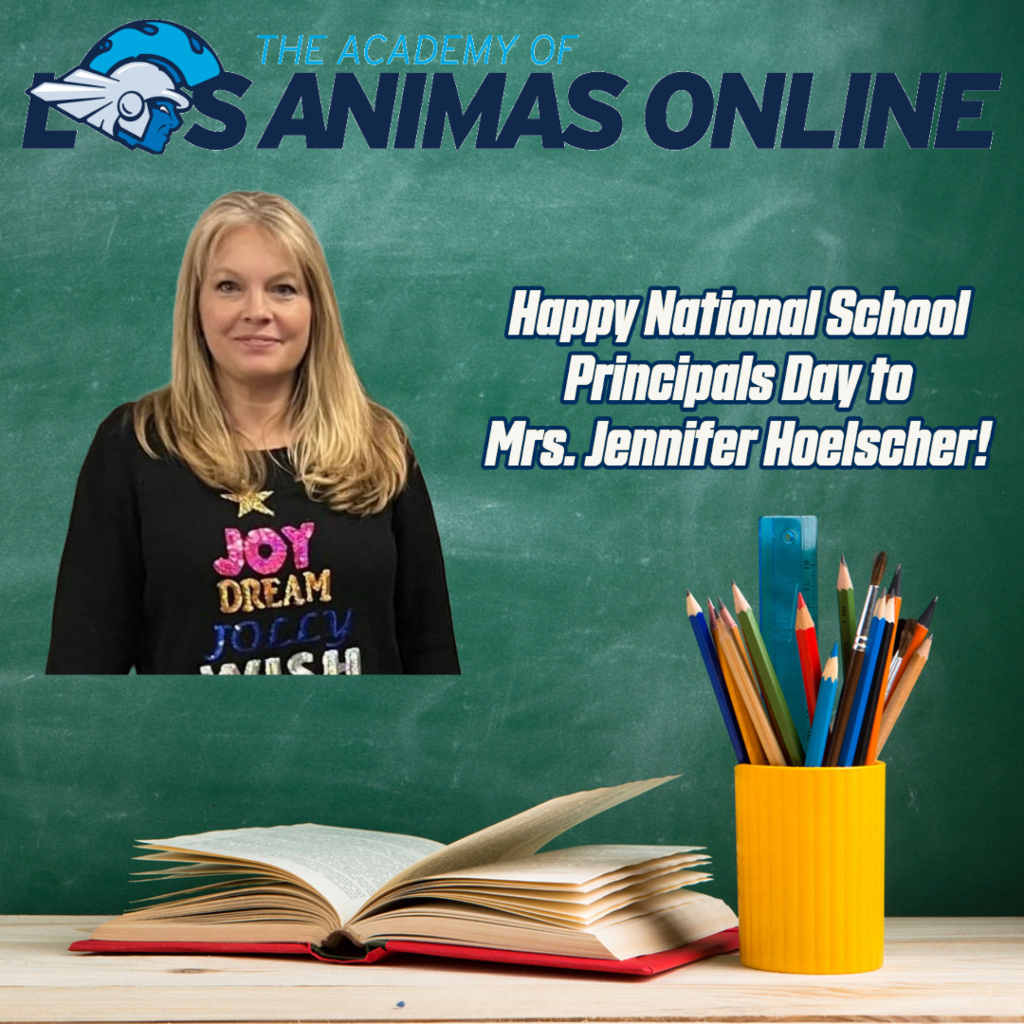 Come see us this Friday! Stop by our booth this Friday, May 5th, 2023, from noon to 5 p.m. at Bessemer/Ray Aguilera Park for the 53rd Annual Cinco De Mayo Celebration in Pueblo! Enroll for the 2023-2024 school year, meet staff, and get some cool AOLA Online gear! We look forward to seeing you there! 🌟☀️📓💻🌟☀️📓💻🌟☀️📓💻🌟☀️📓💻🌟☀️📓💻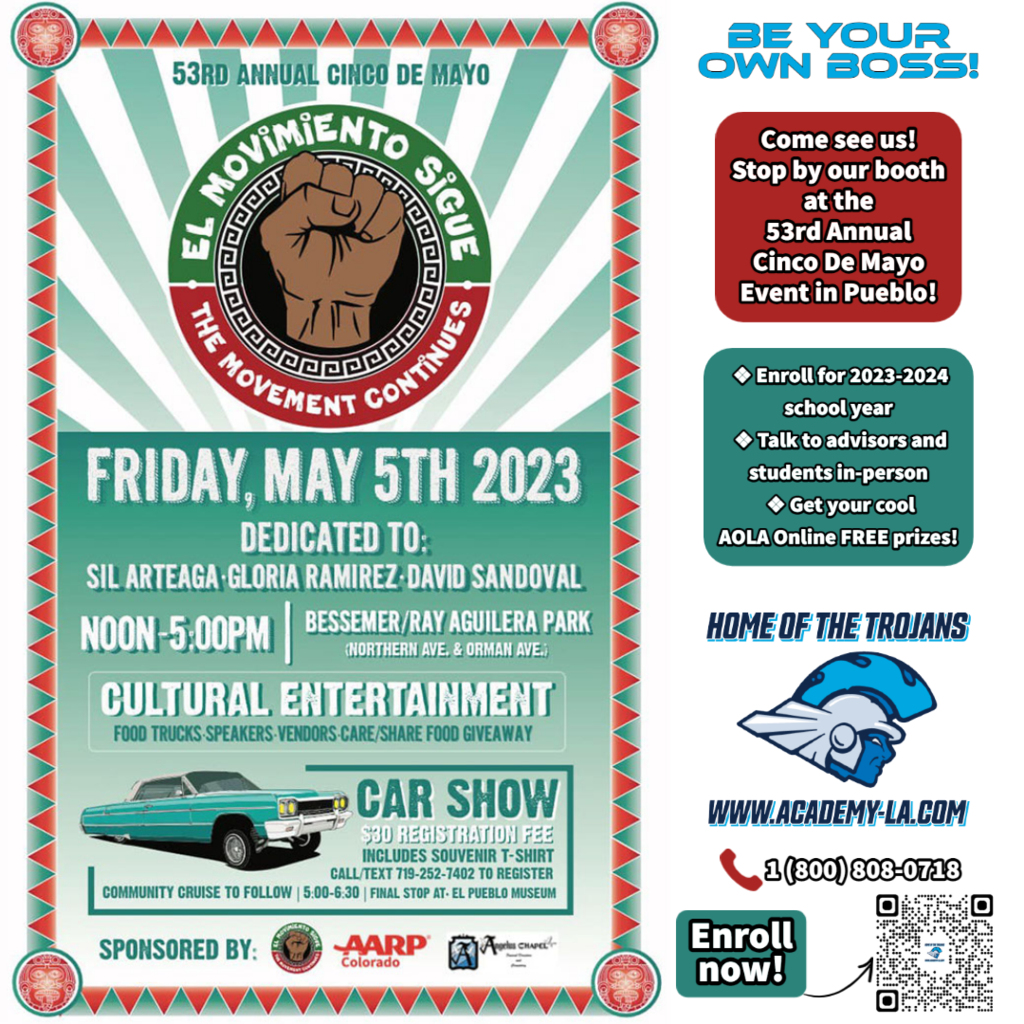 Today is Day #1 of Staff Appreciation Week here at AOLA Online and we wanted to start off by saying, Happy National School Principals Day to our awesome Principal, Mr. Adam Combs! Thank you for all that you do for our staff and students! 🌟📚🖊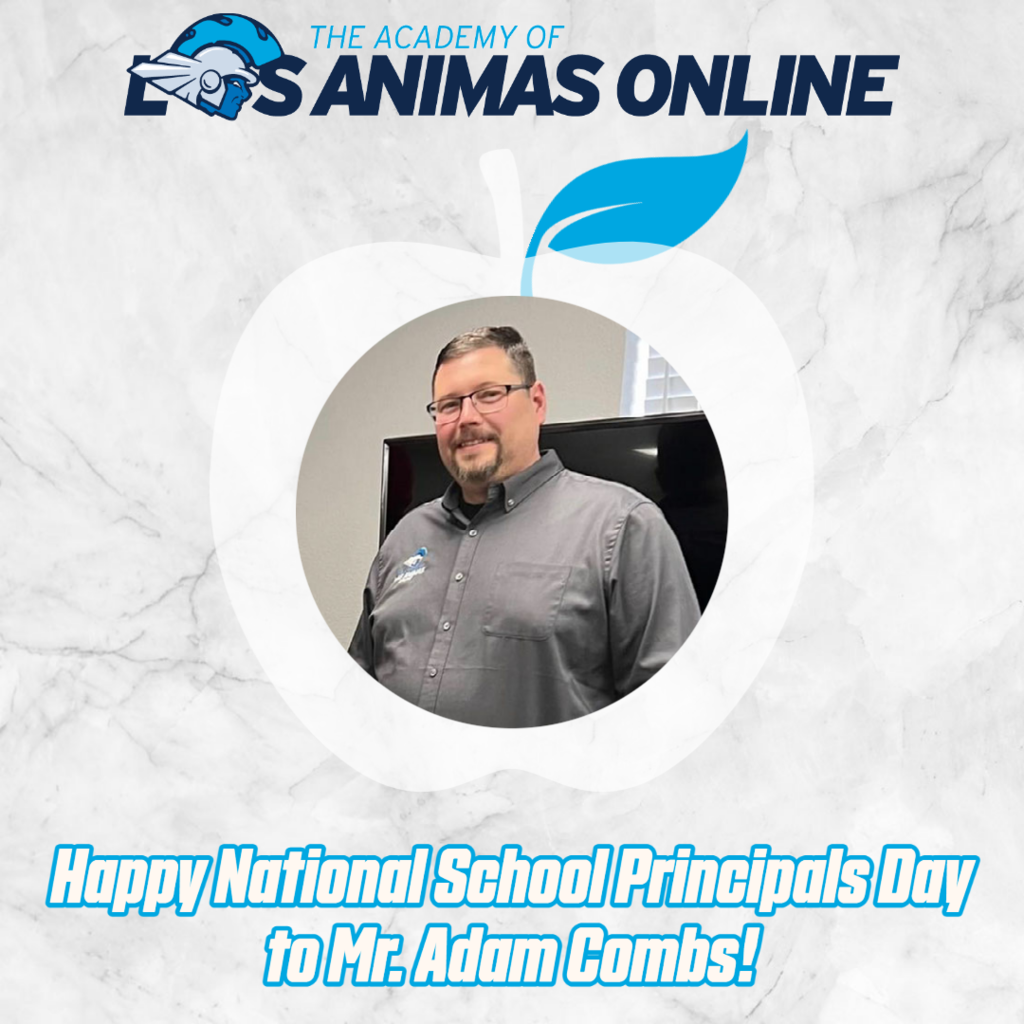 ATTENTION AOLA ONLINE NORTHERN COLORADO SENIORS! Check out this potential job opportunity happening in the Denver Metro area.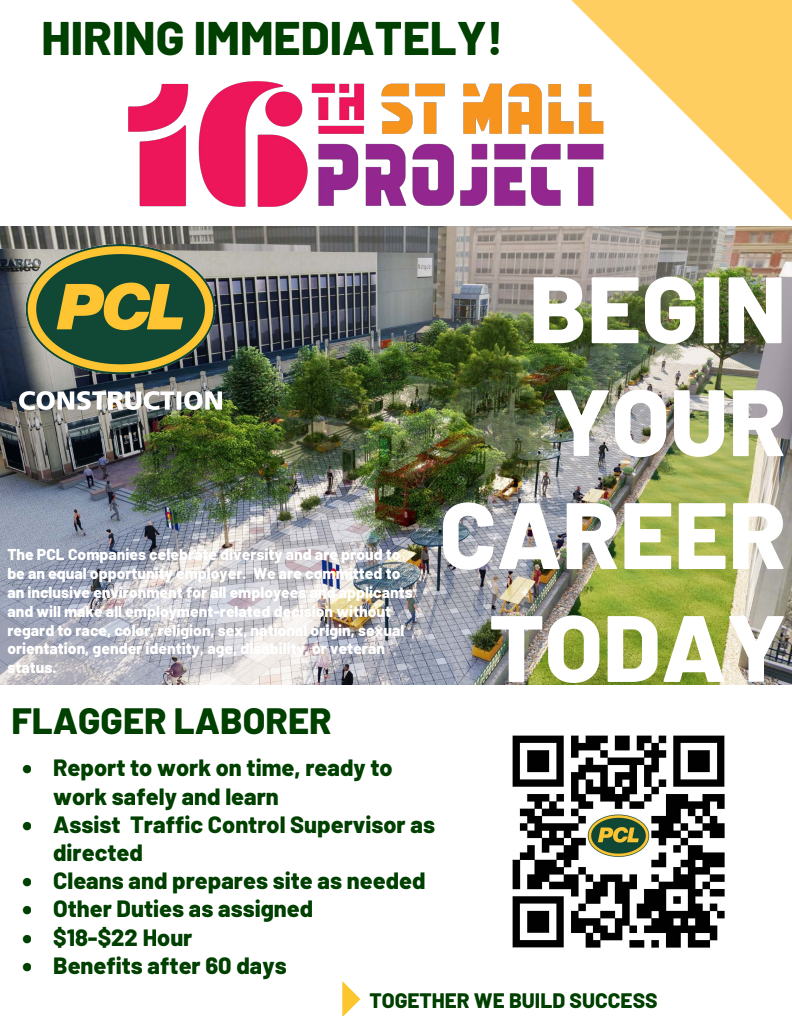 ​Want to become an AOLA Online Trojan? 🌟​​We are CURRENTLY HIRING!🌟 Please see the attached job description for Mentor (In-person: Pueblo/Pueblo Drop-In Zone). To apply, please follow the steps to send in a complete application which can be found on our website at
https://www.academy-la.com/page/employment
. This position will remain open until it has been filled. If you have any questions or concerns, please email
hr@la-schools.net
.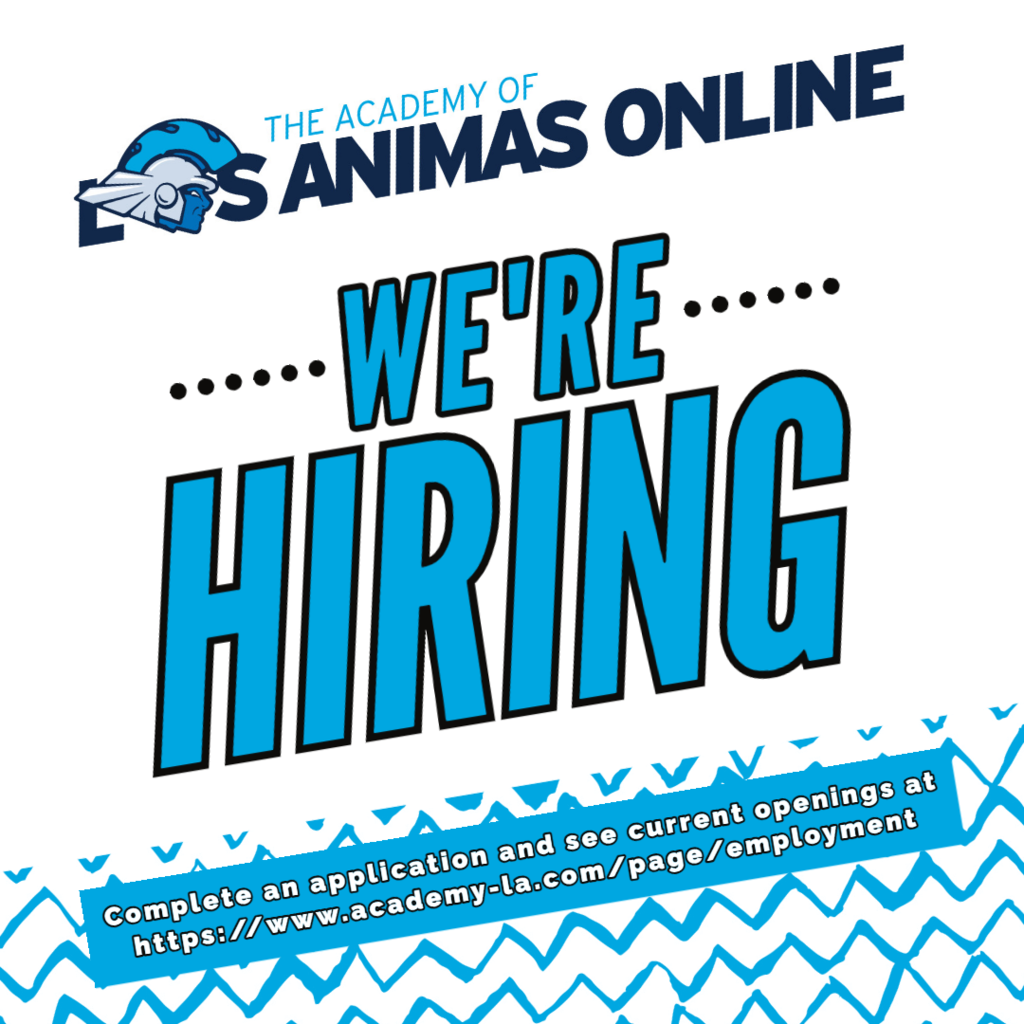 ​What another great weekend for Team AOLA Online at Bessemer Park! Building community and embracing teamwork are two core principles of being a Trojan! Keep it up, AOLA Online! 🥎🥎🥎🥎🥎

Come see us! Stop by our booth on May 5th, 2023 from noon to 5 p.m. at Bessemer/Ray Aguilera Park for the 53rd Annual Cinco De Mayo Celebration in Pueblo! Enroll for the 2023-2024 school year, meet staff, and get some cool AOLA Online gear! We look forward to seeing you there! 🌟☀️📓💻🌟☀️📓💻🌟☀️📓💻🌟☀️📓💻🌟☀️📓💻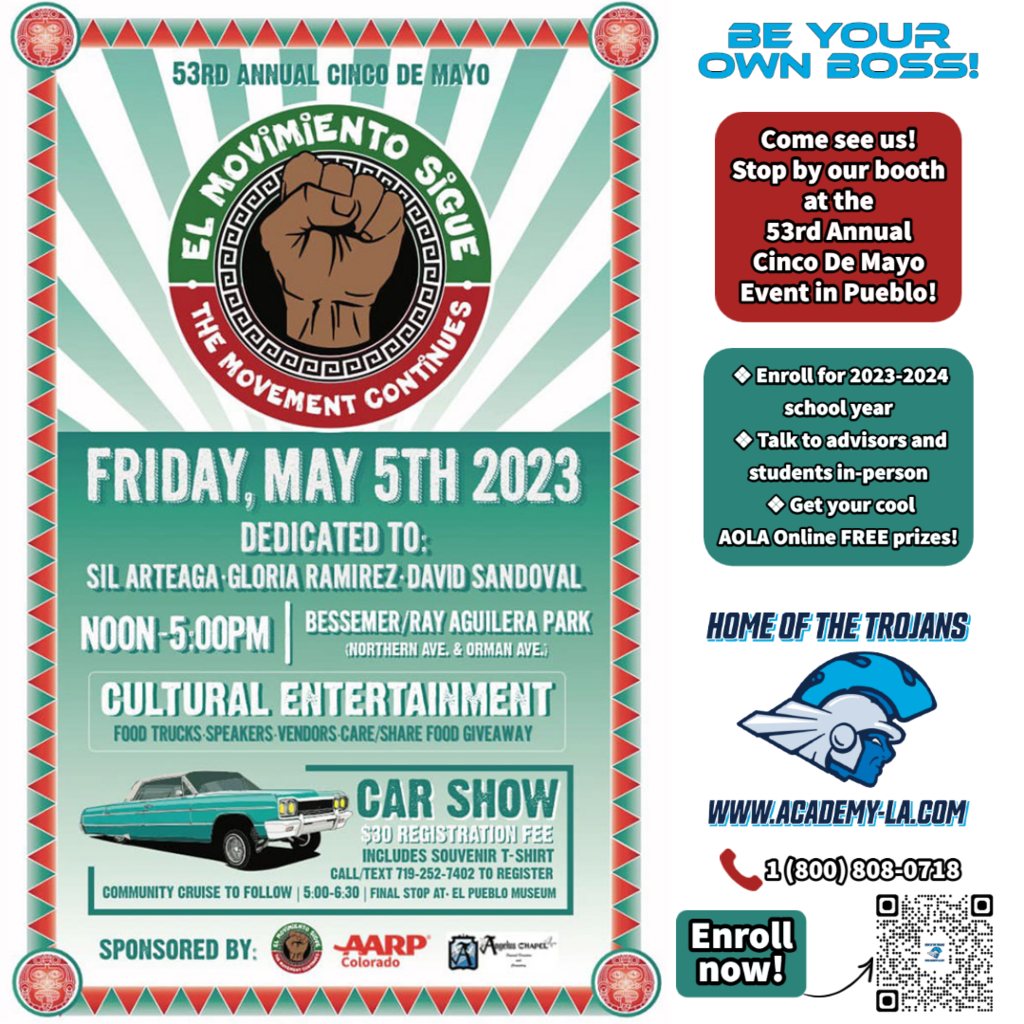 Come see us! Stop by our booth on May 5th, 2023 from noon to 5 p.m. at Bessemer/Ray Aguilera Park for the 53rd Annual Cinco De Mayo Celebration in Pueblo! Enroll for the 2023-2024 school year, meet staff, and get some cool AOLA Online gear! We look forward to seeing you there! 🌟☀️📓💻🌟☀️📓💻🌟☀️📓💻🌟☀️📓💻🌟☀️📓💻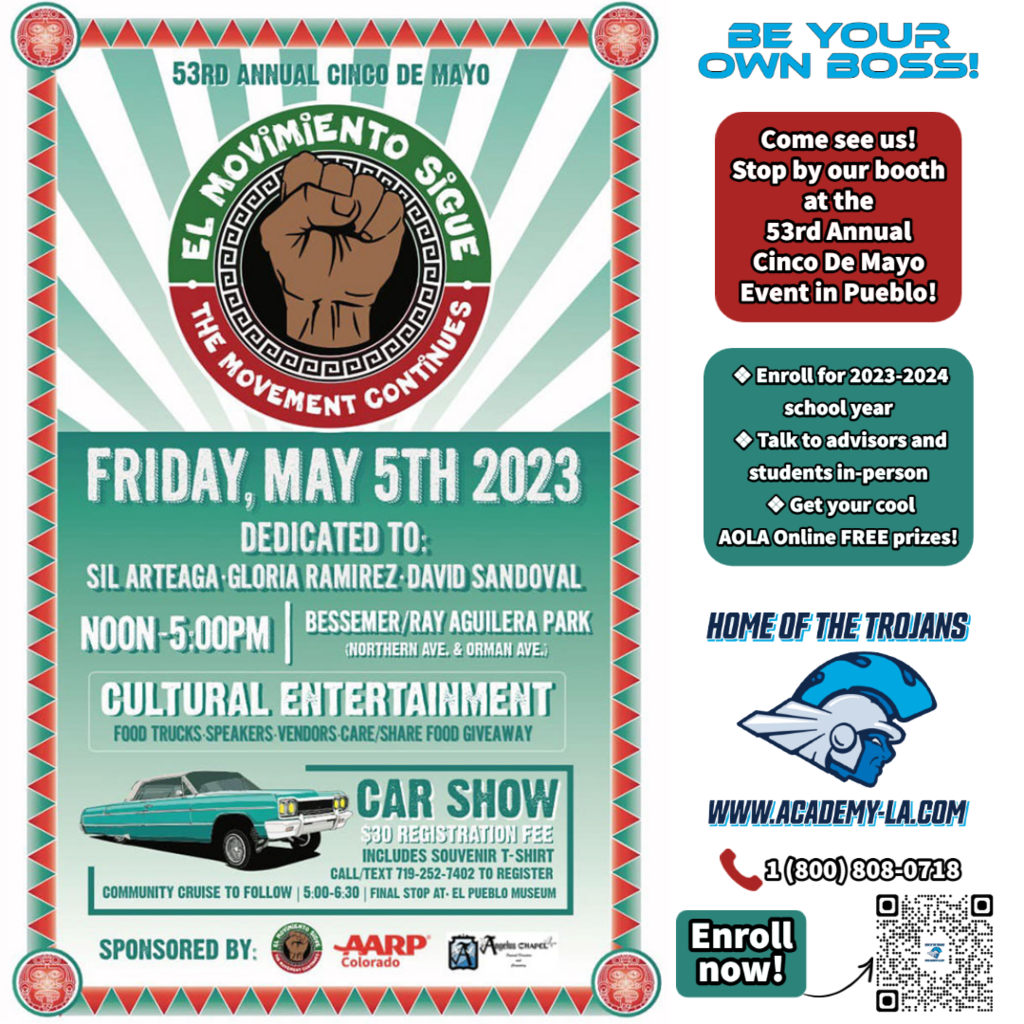 This past weekend was the First Annual AOLA Online Easter Egg Hunt & Show 'N' Shine at the Pueblo Nature Center. To say it was a success is an understatement! Thank you to all of our wonderful sponsors who helped with donating prizes, baskets, craft supplies, over 5000 eggs and so much more! We would also like to thank all who participated in the Show 'N' Shine, the food trucks who served at our event, and especially, Jessica Hernandez, one of our wonderful mentors, who did all of the behind-the-scenes work to put on this FREE event. We appreciate all of your hard work and dedication to putting on such a great event! We look forward to hosting this event for the years to come and hope you can join us next year for some more Easter fun! 🐰🐥🐰🐥🐰🐥

ATTENTION AOLA ONLINE STAFF, STUDENTS, FAMILIES, AND THE PUEBLO COMMUNITY! Join us TOMORROW for the First Annual AOLA Online Easter Egg Hunt & Show 'N' Shine taking place at the Pueblo Nature Center from 1 p.m. - 4 p.m.! This event is FREE and open to all ages! There will be FREE prizes and easter basket giveaways! Local food vendors will also be present so bring your appetites! Thank you to all of our sponsors who have made this event possible! We look forward to seeing everyone there!🐥🐰🥚🐥🐰🥚🐥🐰🥚

ATTENTION AOLA ONLINE STUDENTS: ✅ Need EXTRA CREDIT? Attend April 14th Field Trip ✅ Need EXTRA CREDIT in Math, Science, Social Studies, or English? Attend our Lunar Quest field trip in Colorado Springs on April 14th from 11AM-2:30PM and you will receive extra credit! April 14th from 11AM-2:30PM we will be holding a field trip at the Challenger Learning Center in Colorado Springs. The field trip does not cost you any money and we will have pizza at 11AM. The field trip is a simulated mission to the moon! It will be a lot of fun! You will each get a position where you will help our trip be successful! There will be buses that will pick students up starting around 8AM at the Las Animas Drop-In Zone, La Junta Walmart, Pueblo Drop-In Zone, and The Citadel Mall Dillard's Parking Lot. If you live in other areas, you will need to find a ride either to the Challenger Learning Center in Colorado Springs or one of the listed bus stop locations above. If you are interested check out the flyer and scan the QR code to sign-up! Please sign-up by April 9th if you would like to participate. If you have any questions please email
tessa.wagener@academy-la.com
or call 719-931-4579.🌖🚀

ATTENTION AOLA ONLINE STUDENTS: Join us for our Maker Space Field Trip on Monday, April 17th, 2023! Transportation from the Pueblo Drop-In Zone is available if you are needing it. This is a good way to learn about tools, electricity, carpentry, and gardening! If you have any questions, call 1-800-808-0718 or reach out to your advisor!🌱🌱🌱

ATTENTION NORTHERN COLORADO STUDENTS AND FAMILIES: Stop by this FREE event happening this weekend in Aurora! We will have a booth where you can meet a staff member to discuss enrollment for next year, discuss our diploma pathways, or inquire about us as a school! We look forward to seeing some of you there! 🐰🐥🐰🐥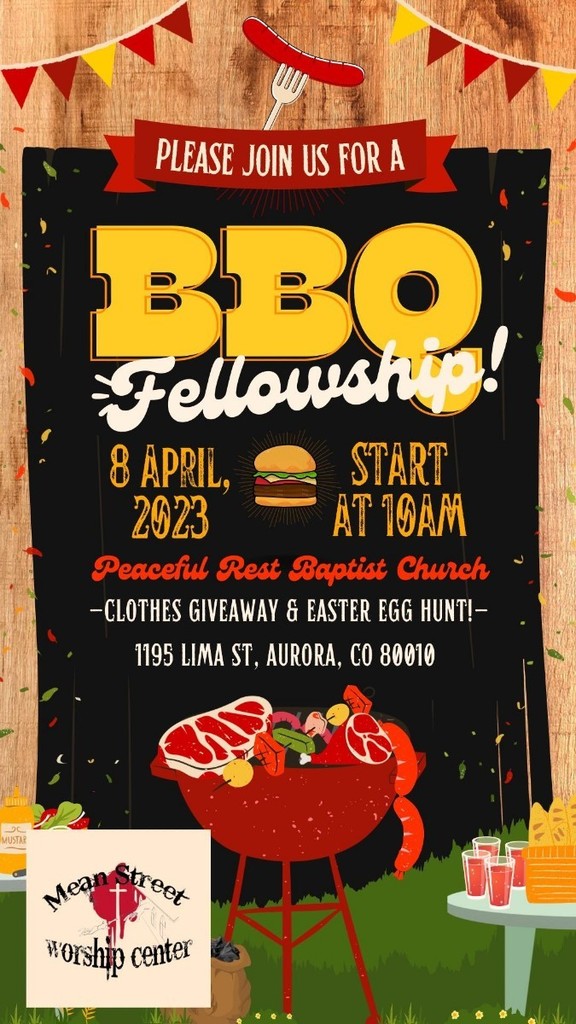 Want to become an AOLA Online Trojan? WE ARE CURRENTLY HIRING! Click on the employment tab to see our current openings! 🌟🌟🌟